Microsoft makes Office 365 pretty easy when you are already managing Active Directory with its DirSync utility. However, this doesn't always work if your users are not in AD or if you have multiple forests. So, how do you manage provisioning, group management and SSO to Office 365 without AD?
EmpowerID.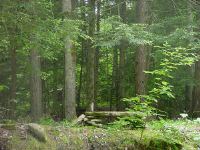 Let's take the first use case, users that are not in AD but that need an O365 account. This happens often in franchises, education, manufacturing or when offering accounts to non-employees. EmpowerID's metadirectory stores a "person" object that is completely independent of AD, this user account can then be provisioned to O365 and updated through EmpowerID's HTML5 user interface.
Users have the ability to manage group membership, passwords (including self service password reset) and single sign-on to O365 with the EmpowerID credentials. All of these changes are made in the metadirectory which is synchronized directly to Office 365 without AD in between as well as direct Identity Administration where the workflows make live changes directly to Office 365 like we do to AD. Not all has to go through sync like FIM.
You can automate all of the provisioning/deprovisioning to the metadirectory based on a connector to any other system (student database for example). The EmpowerID Office 365 connector does all of the heavy lifting that DirSync does but adds the complete workflow and RBAC capability of EmpowerID. Without AD in the mix.
The other use case is one that a few customers have brought to us: Office 365 does not work with multiple AD forests unless you want to deal with FIM and the army of consultants / developers necessary to manage that. Again, the EmpowerID metadirectory solves this, easily connecting and synchronizing each AD forest into the metadirectory, creating a person object that joins user accounts in each forest.
The EmpowerID Office 365 connector then does all of the heavy lifting, provisioning accounts, offering password management, single sign-on and group management. Any changes you make can flow out to each AD forest as well.
The customers that have come to us for this scenario always point out the obvious, if they used FIM they are not future proofed, not only do they pay more for the initial deployment, but if there is another acquisition and another forest added, they have to start the whole process again with FIM. With EmpowerID, it is a matter of connecting another AD forest with the connector already in place. Easy peasy.
Office 365 is a great product (we use it internally) but there are limitations to deploying it with DirSync and some very specific use cases where it doesn't work. EmpowerID fixes those use cases while giving a huge number of other IAM platform advantages. Take the time for a demo of how we can manage O365 without AD and see how much more you can do with a robust single codebase IAM platform.