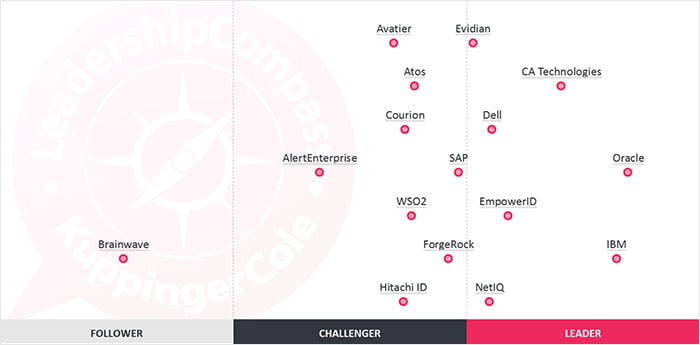 EmpowerID has been recognized as a three time leader in a recent KuppingerCole report evaluating Identity and Access Management (IAM) / Identity Access Governance (IAG) Product Suites.
The IAM/IAG Leadership Compass "focuses on complete IAM/IAG (Identity Access Management/Governance) suites that ideally cover all major areas of IAM/IAG as a fully integrated offering," Martin Kuppinger wrote in the report.
KuppingerCole, a respected global analyst focused on Information Security, examined Identity and Access Management / Governance Suites for this report. They specifically evaluated products that are integrated solutions with a broader scope than single-purpose products. Martin Kuppinger concluded in the report, "With their Windows-based product they [EmpowerID] offer one of the best integrated IAM Suites. All components have been built by EmpowerID, allowing for tight integration into a well thought-out architecture. This integrated approach is a clear strength of EmpowerID."
To request an unabridged copy of the the KuppingerCole report on IAM/IAG Suites, please visit http://info.empowerid.com/download-the-free-kuppingercole-iam-suites-leadership-compass.