The day after the second password was invented, users started to complain. "How can I remember all of these?" Insert some whiney noises here and you have the gist of most helpdesk calls.
IT made some progress with single sign on and password vaulting and all was kind of good. Until the cloud happened. What the heck are you supposed to do now? Each user has dozens of cloud applications they need to get to and you don't really control them.
Thankfully, SAML and federation have happened. You can federate these external cloud applications with your internal authentication and users can access all of their cloud applications right from the comfort and sanctity of their own desk with just one password.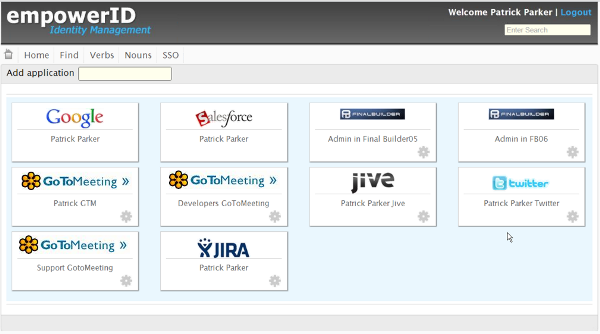 Your users authenticate into the network once, you present them this fantastic SSO dashboard for all of their federated cloud applications (or on-premise, never forget on-premise) and they are off to the races, being productive and not calling IT. Keep in mind that each tile above is a URL so they can bookmark them or you can present them on any intranet page you desire.
If your user has another federated application, they go to add application and you present them a new tile.
We call this Scenario 1 in our whitepaper on the Top 5 Federated Single Sign-on Scenarios, Corporate login to cloud application. Some of the benefits to this approach with EmpowerID are:
EmpowerID provides connectors and workflows to quickly and cost effectively provision application access in Cloud hosted or SaaS applications as part of the normal onboarding process
EmpowerID maintains auditing and reporting of Cloud application login history as well as who has access to which Cloud applications
The EmpowerID Login Workflow provides adaptive authentication security to consistently enforce strong authentication standards such as two-factor authentication and also device registration policies to control access from non-corporate devices
Users only need to know one password
Chances are that your users are using many SAML enabled applications. You can easily control their usage, provision and deprovision users, and provide seamless SSO. This will save you money on your monthly SaaS bills, enhance productivity for the users, and provide security and auditing around the wild west of cloud applications.
Take a look at our whitepaper for more details or schedule a demo and get your users the one password they've been wanting.
Tags: Single Sign-on (SSO)