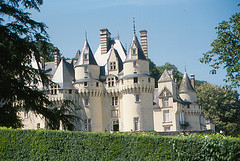 I had a customer years ago who couldn't keep Active Directory identity information accurate, so they gave everyone access to ADUC. You know, so that the users could update their own address, etc. This company went bankrupt; that's what happened when you give fully privileged ADUC access to more than the handful that should have it, you go bankrupt.
Don't go bankrupt, it's bad for the economy.
To solve this age-old problem, you need a way to manage users and computers in Active Directory with appropriate permission sets.
Let domain admins have their way with AD, but actually get yourself a useful audit trail
Let helpdesk users manage group memberships and identity information without the ability to accidentally delete an OU (yes, I've seen that)
Let end users manage their own identity information with some sense of workflow
Having an Active Directory self service solution enables you to do all of this. But you need something a little more robust than a web page with built-in permissions to change attributes and group membership.
This ADUC replacement should be integrated with your overall role based access control (RBAC) policy. You shouldn't have to delegate new permissions, you know who should be able to do what. The same system that manages access to systems and resources can provide the rules on who can change what in AD.
And with rights-based approval routing (RBAR), you can simply state the protected actions, give a role level or attribute level of who can approve and turn it loose. Something like deleting an OU? Can only happen with three domain admins agreeing. Something like changing my mobile phone number? Easy, you can do it, no questions asked. Change a title? Only if a director or above in HR says it's OK.
And get yourself a safety net outside of your AD backup. Have a meta-directory that catalogs every single change EVER and it's pretty easy to restore changes or deletions without losing the old permissions.
Take a look at how EmpowerID can easily replace ADUC and add a ton more value. And it can help you from going bankrupt (claim not verified by anyone but it's a great way to tie the blog post together).
Tags: Role Based Access Control (RBAC), Active Directory, Identity and Access Management (IAM)