Free Office 365 Manager license with every User/Group Manager purchase!
EmpowerID is excited to announce starting Friday January 1, 2016 through Thursday March 31, 2016 we will be including our Office 365 Manager for free with every User Manager, Group Manager, or Exchange Manager purchase! To receive this special deal, contact EmpowerID Sales today.
EmpowerID's New Year's resolution is to help customers eliminate the user login hassle with SSO and unburden IT admins from repetitive Identity and Access administration tasks. The EmpowerID Office 365 Manager allows organizations to securely administrate all aspects of Microsoft's Office 365 environment.
Office 365 Manager extends the capabilities of EmpowerID User Manager and Group Manager to Microsoft's Office 365 platform by providing these capabilities:
Single Sign-On (SSO)
Role-Based Delegated Administration (RBAC)
Automated Provisioning and Sync
Dynamic Group Management of Security and Distribution Groups
Multi-Factor Authentication
Access Recertification and Audit Reporting
Mailbox and Folder Permission Audit, Management, and Self-Service
Provides broader management functionality than Microsoft's standalone admin tools
Not only can the EmpowerID platform consolidate all of your Office 365 management tasks, it can also provide a single set of friendly web and mobile interfaces for all of your Cloud and on-premise systems, including Active Directory, LDAP and enterprise applications.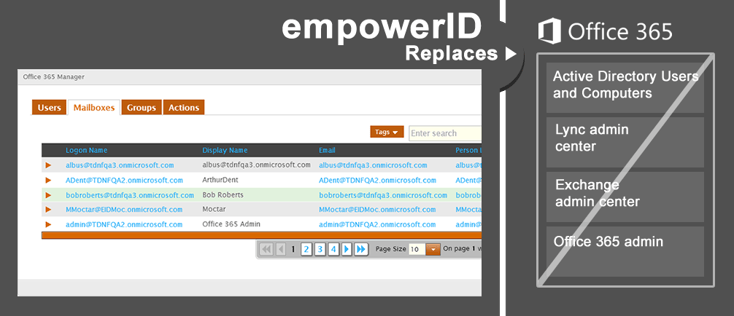 Ready to learn more?
Tags: Office 365