If you are an ActiveRoles user, you know the value of a powerful and flexible Active Directory management solution. But as IT environments become more complex and diverse, managing identities and access across multiple systems and platforms requires a more comprehensive approach.

A modern Identity Governance solution provides more diverse features that understand the growing complexities of modern IT environments enabling deeper use cases than what you'd be limited by Quest Active Roles. While it provides many useful features for managing AD, it has quite a few limitations compared to other AD and identity governance platforms.
One of the biggest game-breakers with Active Roles is that it offers very limited functionality for Cloud users. While in theory, Quest can manage cloud users, but only to an extremely limited extent. The tool allows you to create and provision an AD user to a cloud system. However, the cloud system objects aren't inventoried and managed in the user interface, and you always need to have an AD user as your starting point for management.
This limitation can be problematic for organizations that rely heavily on cloud-based systems, as it creates an additional layer of complexity that may not be necessary. Without proper inventory and management of cloud-based users, organizations may struggle to maintain security and compliance standards.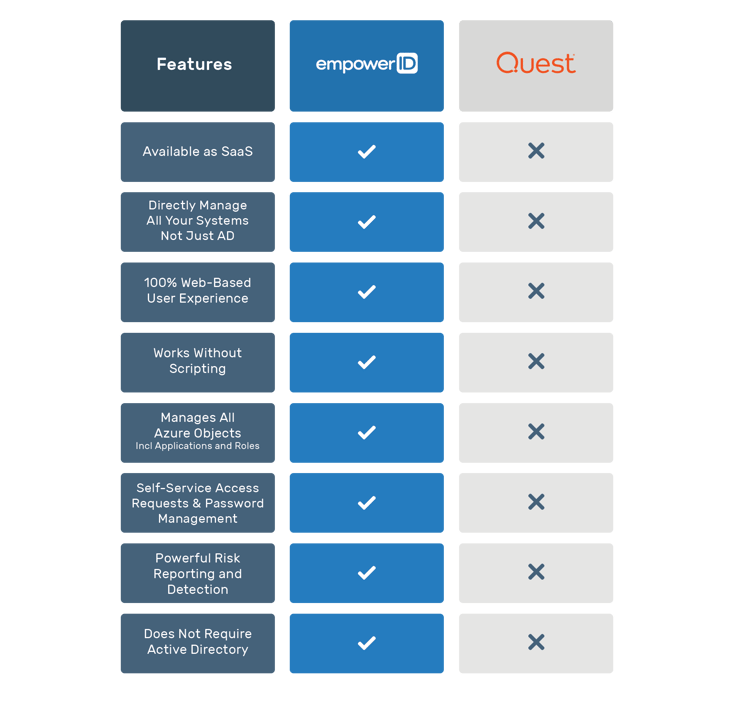 Aside from this, here's a list of a few more of these limitations for Quest ActiveRoles:
Restrictive reporting and analytics capabilities:

Quest ActiveRoles provides limited reporting and analytics capabilities, limited to just Users and Groups, as compared to other IGA Platforms that can provide in-depth and comprehensive analytics on every single AD Attribute. This severely limits you from getting a complete picture of your identity and access management activities.

Neglible support for non-Microsoft platforms:

Quest Active Roles is designed to work only with Microsoft Active Directory environments and does not support other directory services. This can be a significant limitation for your organization if you use a mix of different platforms, such as Unix or Linux.

Limited integration with other Systems and IAM solutions:

Quest ActiveRoles does not integrate well with other IAM solutions, making it difficult for organizations to implement a comprehensive identity governance program. Active Roles also is limited to just being able to manage only your Active Directory, providing no way to manage users on other Systems and Applications.

Finite automation capabilities:

Quest ActiveRoles does not provide extensive automation capabilities, which can make it difficult for organizations to automate repetitive tasks and workflows. Users will have to rely on writing scripting to complete tasks, which, when managing directories with millions of groups, objects, and users, can make even small tasks take exponentially longer and more expensive.

Lacking Cloud readiness:

ActiveRoles Server was designed to work with on-premises Active Directory environments, which is not ideal for organizations that are moving to the cloud or adopting hybrid environments. A modern Identity Management solution offers better cloud-ready features, such as support for multi-cloud environments and identity as a service (IDaaS) capabilities, reported missing in Quest ActiveRoles.

Lacking essential Identity features:

ActiveRoles Server lacks advanced features like identity governance, access certification, risk-based access control, and identity analytics that are essential for modern organizations to manage identity and access in complex environments. Self Service features such as Access Requests and Password Resets are shown to have saved organizations millions of dollars in helpdesk costs and are seen as a must for any good IGA platform.
EmpowerID offers a modern, web-based solution that goes beyond Active Directory management to provide full Identity Governance and Administration, Access Management, and Privileged Access Management capabilities. With EmpowerID, you can manage identities and access across on-premises and cloud-based systems, applications, and platforms, including Microsoft Azure, SAP, Oracle, and more.
EmpowerID's True Zero Trust administration for Azure and other platforms allows for fine-grained access controls and risk management, and its low-code identity orchestration engine allows for easy automation of complex business processes. EmpowerID's powerful RBAC and PBAC hybrid authorization engine provides efficient and flexible administration and runtime policy enforcement.
Not only does EmpowerID offer advanced capabilities beyond Active Roles, but it also offers the convenience and scalability of a modern SaaS platform. EmpowerID's modular licensing allows you to add or remove features as your needs change easily, and its cloud-based deployment means you can manage your identities and access from anywhere.
Don't settle for less with ActiveRoles - Make the switch to EmpowerID and experience the power and flexibility of a modern, web-based Identity Governance and Administration solution that goes beyond Active Directory management.

If you'd like to read more about Cloud Ready Identity Governance Platforms, we'd recommend our Whitepapers on these subjects: Siemens Case Study, Cloud Infrastructure Entitlement Management (CIEM) Report
Upgrade from ActiveRoles Today!
Tags: Active Directory, IAM, Virtual Directory, Access Governance, cloud security